ON MY SOAPBOX
Throw Out The Race Card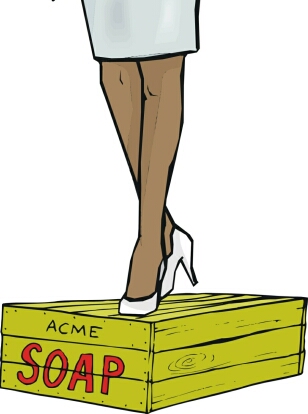 I know some will not agree with me on this but I am going to say it anyway. I am asking my Black sisters and brothers to stop using race to fight battles. A wrong is a wrong is a wrong, regardless of who does the wrong or what race they are. We all know that prejudice does exist, and if we are honest with ourselves, we will admit that prejudice exists within every race. However, I believe that an injustice can be exposed without bringing race into the situation at all. If race is the motivation for a crime, it will be exposed through the evidence without race ever being mentioned. You can never really prove what is in a person's heart anyway, so concentrating on the actual facts will serve the case much better. Bringing race into the picture will serve to weaken the case, in my opinion, and cause wider divisions between the races.

We should be outraged when anyone is harmed or killed without cause. What is the difference between a Black man being unjustly killed by a White man, and a Black man being unjustly killed by another Black man? And vice versa – a White man being unjustly killed by a Black man, or a White man being unjustly killed by another White man? Are all of these situations not WRONG? We cannot put a higher value on any one of these situations – they are all so very wrong regardless of the root cause. Is a racial murder worse than a murder motivated by greed or jealously or power or drug addiction or sexual gratification?

I am not suggesting that we pretend racial prejudice does not exist, but I am saying that we should not let prejudices (our own or someone else's) dominate our thinking and rule our lives. I am old enough to have lived through segregation in the deep South, so I by no means take anything lightly. But I believe it is time to throw out the race card when it comes to fighting the battle of injustice. If we do not, we will find ourselves on the other side of the coin each time we commit an injustice towards someone of another race, which could eventually lead to civil war among the races. I do not think that would be good – there is enough hatred against Americans as a whole, so we do not need to have hatred brewing amongst ourselves. Find ways to make injustice look itself in the mirror through facts and real evidence.

Lastly, stop telling yourself that you are a victim. Stop being angry because others will not share their pie with you – make your own darn pie and share the slices among yourselves the way other groups of people have done in this country. Start by REALLY supporting each other and lifting each other up instead of trying to out-shine each other, laughing at each other, ignoring each other, lying to each other, stealing from each other, killing each other, disrespecting each other, hating each other . . . you get where I'm coming from. In a nutshell, truly LOVE each other.


--Rosalin Moss
Say It With Roz
September 30, 2014